Main content starts here, tab to start navigating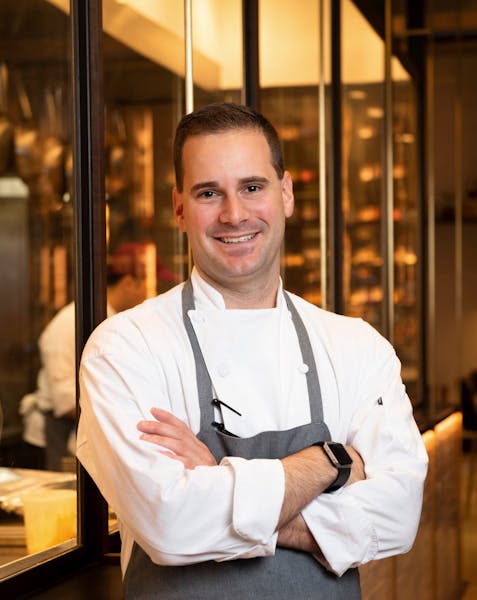 Justin Skribner
Chef de Cuisine
Growing up in a small coastal town on the Jersey Shore, Justin Skribner developed a love of cooking from an early age. After high school, he enrolled in Johnson & Wales University, where he graduated in 2008 with a degree in Culinary Arts. His professional career began at the 3 Michelin-starred Per Se, where he first met Chef Jonathan Benno, and worked his way up from Extern, to Commis, and finally Chef de Partie. He then moved to Eno Terra in Kingston, New Jersey, deepening his knowledge of Italian cuisine, and bringing it with him to his next role at Benno's Lincoln Ristorante on the Upper West Side. At Lincoln, Skribner served as Chef Tournant, working every station at the restaurant over his three-year tenure, and honing his skills in pasta making and the craft of whole animal butchery.
Upon leaving Lincoln in the summer of 2013, Skribner traveled to the West Coast where he staged at several of the Bay Area's most highly regarded restaurants including SPQR, Quince, Flour + Water, and Chef Thomas Keller's The French Laundry. Upon his return to New York, he became the Chef Tournant at all'onda. A year later he took the position of Executive Sous Chef under Markus Glocker at Bâtard in Tribeca, then joined the opening team of Dan Kluger's Loring Place as Sous Chef.
In 2018, Skribner came on board to assist with the opening of Chef Benno's Leonelli Taberna, as he prepared to take on the role of Chef de Cuisine at the eponymous Benno restaurant that fall. "What brought me back to work with Chef Benno is his ability to help people reach their full potential," says Skribner. The two worked closely on all aspects of menu development for the fine-dining Mediterranean restaurant. "The opening of Benno truly represents when hard work, dedication, and sacrifice coming to fruition. I try to execute his vision for the cuisine, and help the young cooks in the kitchen the way Chef Benno has done for me over the last ten years I've known him. Since opening, Benno received 3-stars from the New York Times, a glowing review from New York Magazine, and Skribner was named a StarChefs Rising Star 2019.
Justin lives with fiancé Kellan Fay in Jersey City, where they enjoy playing with their French bull dog, Maestro, and jamming-out to Bruce Springsteen.